What Does The Empathy Symbol Stand For?
The Empathy Symbol stands for 2 "sides" reaching out to each other, and opening up to try to truly understand the other's experiences and feelings. It could be 2 groups of people: men and women, blacks and whites, Jews and Muslims, fundamentalist Christians and atheists, Israelis and Palestinians, gays and straights, old and young, able-bodied and disabled, immigrants and native-born, and so on; or it could be 2 individuals: spouses, neighbors, co-workers, etc.
The Original Empathy Symbol, created in 1973
People have asked about the origins of the empathy symbol. I was a college student, active in the anti-Vietnam war movement.
I was contemplating the peace symbol I was wearing, when suddenly the idea for the empathy symbol popped into my head, full-blown. It felt as though it had been given to me, and I have felt spiritually charged to bring it to the world ever since. Deb Ellsworth
Featured Empathy Promoter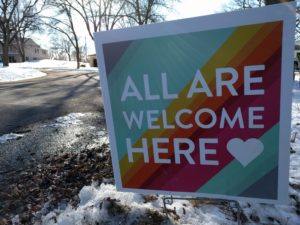 All Are Welcome Here is a grassroots movement that started in Minnesota in the aftermath of the 2016 election, in response to expressions of hate and racism that happened at the high school which the founder of AAWH had attended. She felt compelled to do something, to speak out against this growing atmosphere of tolerance for hate speech. So she made a sign and put it out in her yard. From that one simple, heartfelt sign, the movement has grown. Now you see the signs all over the metro area of Minneapolis/St. Paul. People are putting their support for tolerance and inclusion out at their homes and at their businesses and at their schools in many states. Harvard Dance School welcomed new students this fall with the signs.
Listen to the words to of a Somali high school student who is new to our country and wears a hijab: "When I went to visit my friend in Minneapolis and saw so many 'All Are Welcome Here' signs in people's yards, and all the "Black Lives Matter" signs, for the first time, I felt like I could really relax. I felt like I belonged."
This is the mission of AAWH: "Our mission is to support an inclusive, non-partisan, and positive environment for All in the state of Minnesota and the broader United States. We believe diversity makes Minnesota and the United States great, and we are committed to taking concrete actions to support our mission and vision."
Check out their Facebook Page to see interesting posts about how people are working to help all people feel welcome.
See our previously featured Empathy Promoters.

Empathy News
For more information about the empathy movement, read Empathy Magazine an online collection of the latest news about empathy from around the world Curated by Edwin Rutsch
Help Us Spread the Value of Empathy!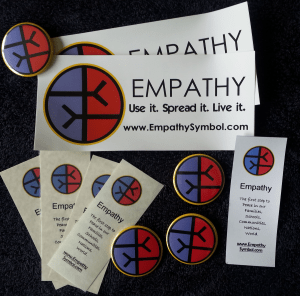 We will send you FREE up to five bumper stickers, eight peel-off empathy symbols, and four bookmarks. Let us know which items you want, and your address.
Join the conversation on the Empathy Symbol Facebook Page!
Check out our Facebook page, and Follow and join the conversation. Posts about the value of empathy in our polarized world; how to promote empathy; and especially posts to further our own empathy toward, and understanding of, others.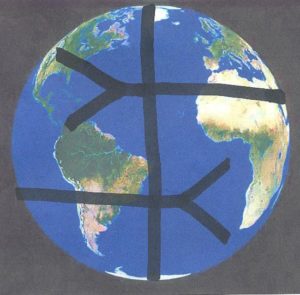 Shirts with the Empathy Symbol
Now you can wear the empathy symbol and show what you stand for! Buy sweatshirts with the empathy symbol on them from Amazon UK or T-shirts for adults and kids at TeePublic (adult1, adult2, kid)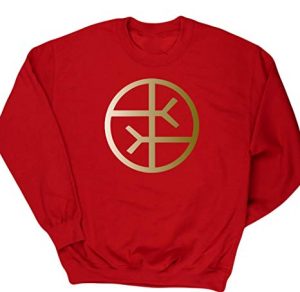 Using the Empathy Symbol
A German artist named Caro has created a new piece of art using the empathy symbol. See this piece of art and more
here.