What Does The Empathy Symbol Stand For?
The Empathy Symbol stands for two "sides" reaching out to each other, and opening up to try to truly understand the other's experiences and feelings. It could be two groups of people: men and women, blacks and whites, Jews and Muslims, fundamentalist Christians and atheists, Israelis and Palestinians, gays and straights, old and young, able-bodied and disabled, immigrants and native-born, and so on; or it could be two individuals: spouses, neighbors, co-workers, etc.
The Original Empathy Symbol, created in 1973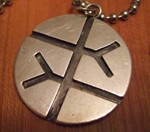 People have asked about the origins of the empathy symbol. I was a college student, active in the anti-Vietnam war movement. I was contemplating the peace symbol I was wearing, when suddenly the idea for the empathy symbol popped into my head, full-blown. It felt as though it had been given to me, and I have felt spiritually charged to bring it to the world ever since. Deb Ellsworth
Featured Empathy Promoter
Sandy Hook Promise: Start With Hello initiative
Sandy Hook Promise has developed a new program for educators to use in schools to promote social-emotional skills, called Start With Hello. The stated goal: "Teaching empathy and empowering students to end social isolation by following three easy steps."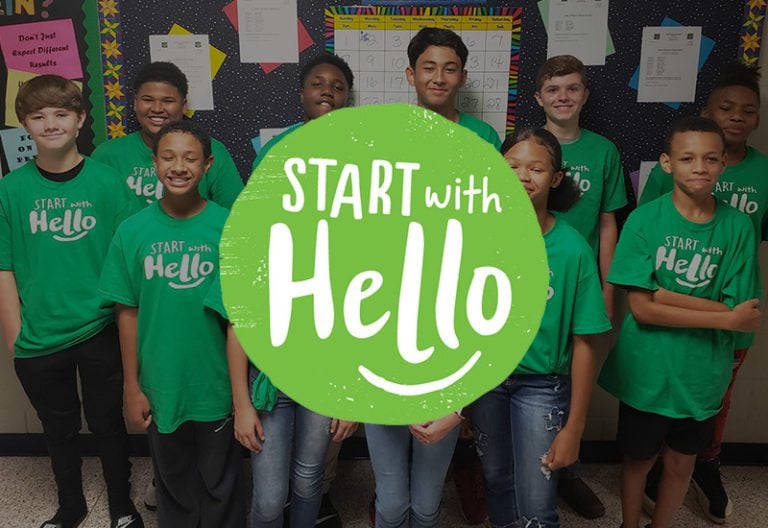 The simple but powerful premise is that violence and bullying can be reduced by helping students to feel empathy for one another.
For Grades K-5, "Start With Hello Elementary is a digital program that includes an interactive storybook, videos, activities and projects. You'll also receive an educators' guide with lesson plans based on social-emotional learning to help students build empathy, healthy relationships, and social awareness." We are excited to add that the Empathy Symbol is being used as part of this program, in a coloring sheet designed by ArlieSpeaks Media, LLC. Arlene J.M. Grant is a Promise Leader for the Sandy Hook Promise organization, as well as being an activist, artist, attorney, author, educator, humanitarian, podcast host and the Creative Director of ArlieSpeaks Media, LLC.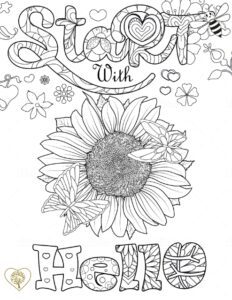 December 2020 is the 8th anniversary of the devastating Sandy Hook school shooting, when 20 young children and 6 educators were killed. It is unconscionable that we are 8 years out from that, and so little has been done to prevent gun violence. In fact, there have been many horrific mass shootings since then. There are several avenues to reduce gun violence, including legislative. Start With Hello is a very promising new way to get to the root of the problem. We hope all schools use this program to promote empathy and other social skills in children.
New!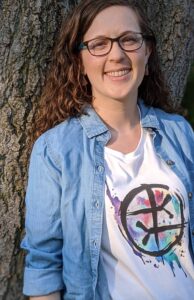 Check out our new page, Empathy Symbol in Action! See how the empathy symbol is being used in many ways, from artwork to clothing to logos to inclusion in books to more. There are so many ways to express and share the core value of empathy!
New Products! 
Show everyone your commitment to a more empathetic world. We are excited to be offering empathy symbol necklaces, with a copper symbol on a soft cord. Each pendant is individually made from a mold created from the original empathy symbol. Since each one is hand-crafted, they will vary slightly. We are also now offering 1.5″ buttons and three-inch sew-on patches. You can also get the image for you to use for free however you might like.
Empathy News
For more information about the empathy movement, read Empathy Magazine –an online collection of the latest news about empathy from around the world. Curated by Edwin Rutsch
Join the conversation on the Empathy Symbol Facebook Page!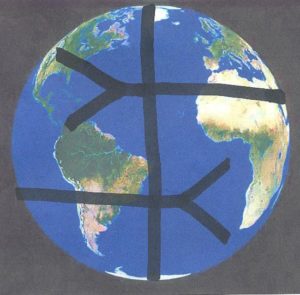 Check out our Facebook page, and Follow and join the conversation. Posts about the value of empathy in our polarized world; how to promote empathy; and especially posts to further our own empathy toward, and understanding of, others.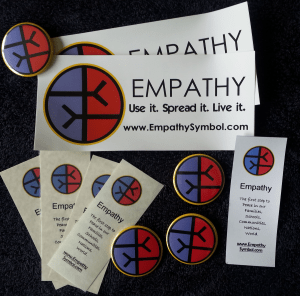 Help spread the value of empathy! We will send you up to 30 bookmarks printed on cardstock, and/or up to 10 bumper stickers, for free! contact us with your address and what you would like.
Using the Empathy Symbol
A German artist named Caro created this piece of art using the empathy symbol. Others are incorporating the empathy symbol into their logos (with our permission obtained.) We are looking for artists and craftspeople to help spread the value of empathy via items they create–jewelry, mugs, phone case covers… Please see below for how to obtain our permission to do so, under the Creative Commons License.
Use of Empathy Symbol is subject to a Creative Commons License. Find out more.